The Audree Fowler Fellowship in Protein Science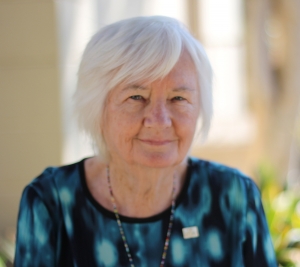 Dr. Audree V. Fowler has been a dedicated Bruin for more than 60 years. A strong supporter of the basic sciences, the performing arts, and medicine at UCLA, she recently demonstrated her devotion to the College of Letters and Science again by establishing the Audree V. Fowler Graduate Fellowship in Protein Science, to be administered by the Molecular Biology Institute.
Since 2008, a total of thirty six graduate students have received Fowler Fellowships.

Audree received her B.S. in chemistry from UCLA in 1956 and went on to earn a Ph.D. in biochemistry in 1963, when that field was almost exclusively male. She served as a NIH postdoctoral fellow at the Albert Einstein College of Medicine in New York and in UCLA's Department of Biological Chemistry before becoming a research biological chemist in the David Geffen School of Medicine at UCLA. .  She built an eminent research career which included includes over 80 publications. She also built strong connections with the Molecular Biology Institute, the Department of Biological Chemistry in the David Geffen School of Medicine, the UCLA Protein Microsequencing Facility—where she served as director for 15 years—and the Jonsson Comprehensive Cancer Center. She is one of five founding members of the Association of Biomolecular Resource Facilities (ABRF), which is now an international organization of 1,100 members. She was named the first lifetime member of the organization in 2008.
Although she retired from UCLA in 1999, Fowler is determined to remain active. She is an avid Bruin, maintaining her emeriti membership in the Molecular Biology Institute and serving on the board of directors of Women & Philanthropy. She also is on the executive board of Design for Sharing and the Iris Cantor UCLA Women's Health Center, and she volunteered at the Santa Monica Pier Aquarium—formerly the UCLA Ocean Discovery Center.
She expanded her involvement by giving tours of the Palisades Park hosted by the Santa Monica conservancy and then the conservancy was looking for docents for the Marion Davies Beach House. Audree has been a docent since it opened in 2009. It is only fitting since the Protein Facility was located very close to the Marion Davies Children's Clinic at UCLA (a note in passing the funding of the center was the most given to UCLA at that time).
The Audree V. fowler graduate Fellowships in Protein Science serves as a fitting testament to Fowler's commitment and dedication to her research
and to UCLA. The fellowships are awarded to promising Ph. D. candidates working in protein science. The crucial resources provide by the award advance
the education of the Fowler Fellows by enabling them to concentrate on their innovative research.
"The sciences gave me a great life," she explained. "Now I want to help others have access to the same opportunities I enjoyed."
Application checklist:
Research Statement (max 2 pages, excluding figures and references), describing how the work advances protein science

Curriculum Vitae, including any publications.

Letter of recommendation from the mentor.

Letter of recommendation from a second MBI faculty member.
MBIDP Dissertation Year Award



This award is made possible by a gift from MBIDP Alumnus Garry Miyada. The Award is open to current graduate students in the Molecular Biology IDP who are approximately one year or less away from presenting their Final Defense and filing their dissertation.  We are looking for candidates whose research achievements are notable, who have had an impact on their field, and who have the potential for continued significant scientific contributions.
Application checklist:
Research Statement (max 2 pages, excluding figures and references).

Curriculum Vitae, including any publications.

Letter of nomination from the research mentor outlining the student's research achievements and future scientific potential.

A second letter of support from a faculty member familiar with the student's research.
Roy & Dorothy John, Fred Eiserling & Judith Lengyel Awards for Teaching Excellence
These awards are available to MBIDP graduate students who have completed their required 2 TA-ships and have received exceptional feedback from their course instructors and students.
Application checklist:
Curriculum Vitae

Teaching evaluations from the students (EIP Reports)

Mentor's letter of recommendation

Course instructor(s) letter of recommendation (if different from mentor)
Diversity, Equity and Inclusion Award
These awards recognize outstanding graduate students in the MBIDP program who demonstrated a commitment to leadership, outreach and service. Examples include (but are not limited to) participation in recruitment efforts in the UCLA biosciences, providing peer-support to fellow graduate students, teaching and mentoring in under-represented schools, and active leadership within outreach organizations focused on promoting diversity. Students must be making satisfactory academic progress to be eligible for this award.
Applicant statement, describing contributions to diversity, equity and inclusion activities (1 page max).
Letter of Nomination, describing the candidate's qualifications for this award (Upload Here). The nominator can be Faculty, Staff or Student.
The Jules Brenner Scholar's Achievement Fellowship in Molecular Biology
This fellowship was made possible by a gift from MBI supporter Jules Brenner. Mr Brenner worked in the cinematography division of the motion picture industry from the end of his military service in 1959 to the day of his retirement in 1996, starting as a camera assistant/loader at Warner Bros up to Director of Photography (1968-1991) with such film credits as Dalton Trumbo's "Johnny Got His Gun," John Milius' "Dillinger," the MacGyver TV series and the cult fave, "The Return of the Living Dead. He is a voting member of the Academy of Motion Picture Arts & Sciences (AMPAS) and serves as a judge in their Nicholl Fellowship Screenwriting Competition. Since retirement he has been active as a motion picture and book reviewer, accredited by the Motion Picture Association of America (MPAA) as a print and online freelance journalist.
Mr. Brenner believes that Molecular Biology is where the future lies and has provided a gift to recognize one outstanding student whose work is advancing the discipline. The awardee is selected by a committee of distinguished faculty and by Mr. Brenner, who also presents the prize at the Annual MBI Retreat.