The Molecular Biology Institute is home to the Alexander and Renee Kolin Endowed Professorship of Molecular Biology and Biophysics. This 5-year Chair was established in 2005 by the Kolin Family Living Trust, with the goal of supporting the career development of a tenure track biophysicist or molecular biologist in the UCLA College or the David Geffen School of Medicine. The current Kolin Endowed Chair is Dr. Keriann Backus.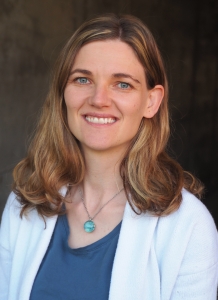 Dr. Backus received bachelor's degrees in chemistry and Latin American Studies from Brown University in 2007. She pursued her Ph.D. in the laboratories of Professor Benjamin Davis (Oxford) and Professor Clifton Barry (NIH, NIAID) as a 2007 Rhodes Scholar and an NIH Oxford Cambridge Scholar. She completed her doctorate in 2012 and began an NIH postdoctoral fellowship at the Scripps Research Institute in the laboratory of Professor Benjamin Cravatt.
In 2019, Backus received a 2019 Young Faculty Award from the US Defense Advanced Research Projects Agency (DARPA) and was named a 2019 Beckman Young Investigator by the Arnold and Mabel Beckman Foundation.
Her research focuses on the development of new chemical tools and chemical proteomics methods to study and manipulate the human immune system. To learn more about Backus' research, visit her lab's website.
Previous Kolin Chairs: