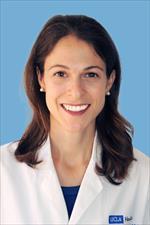 Melissa Lechner, Ph.D.

Office Address:
CHS 57-145
Affiliations
Assistant Clinical Professor,
Medicine-Endocrinology
Research Interests
Our work focuses on the balance of immune activation and immune tolerance. We study how autoimmunity arises from loss of tolerance or inhibition of natural regulatory pathways or checkpoints. On the other side, we try to leverage immune responses and reverse tolerance to improve anti-tumor immunity. As a physician scientist, my research seeks to address the most pressing clinical questions and evolves with the needs of our patients. Here are some of our current projects.
Immune checkpoint inhibitor associated autoimmunity – Immune related adverse events (IrAEs)
Checkpoint inhibitors, including anti-programmed death protein (PD-1) or ligand (PD-L1) and anti-cytotoxic T lymphocyte antigen (CTLA-4), have revolutionized oncology by producing dramatic shrinkage in many advanced tumor types. However, their benefits are limited by the development of unwanted autoimmune side effects (IrAEs) in up to 60% of patients. IrAEs can lead to hospitalizations, permanent organ damage, treatment interruption and even premature death. The cause of IrAEs remains poorly understood.
To study the mechanisms of IrAEs we developed a novel mouse model that recapitulates the multi-organ autoimmunity seen with immune checkpoint inhibitor treatment in patients. Using this model we can study development of IrAEs in both tumor-free and tumor-bearing mice. This is relevant to patients who may be treated with checkpoint inhibitors in the neoadjuvant or adjuvant settings.
Thyroid autoimmunity
Thyroid autoimmunity affects approximately 10% of women, with a strong sex bias and familial risk. Hashimoto's thyroiditis and Graves' disease are frequent causes of thyroid gland dysfunction. Using single cell sequencing of human thyroid specimens and a mouse model of spontaneous autoimmunity, we are studying the cause of thyroid autoimmunity to identify therapeutic targets.
New approaches to thyroid cancer treatment
While most thyroid cancer is treated with surgery and radioactive iodine (RAI), and has a good prognosis, some patients have recurrent or metastatic disease affecting the neck, lungs, and bone. Few treatment options exist for RAI-refractory metastatic thyroid cancers, but advances in genetic and tumor immunology may identify new therapeutic targets.
We showed that thyroid cancers frequently lose antigen expression as a mechanism of tumor immune escape. In addition, BRAFV600E mutated tumors have increased expression of checkpoint protein PD-L1 and immune regulatory cells (Treg, MDSC). Our group is coming clinical and translational studies to advance care for thyroid cancer patients.
Publications
A selected list of publications:
https://sites.lifesci.ucla.edu/mbi-home/wp-content/uploads/sites/191/2015/08/UCL_MBI_logo_40.gif
0
0
navila21
https://sites.lifesci.ucla.edu/mbi-home/wp-content/uploads/sites/191/2015/08/UCL_MBI_logo_40.gif
navila21
2022-12-20 10:51:59
2023-01-18 09:46:42
Melissa Lechner*