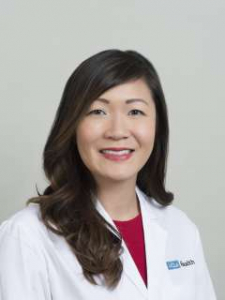 Alison Chu, Ph.D.

Office Address:
B2-377 MDCC
Affiliations
Assistant Professor-in-Residence,
Pediatrics
Member,
Brain Research Institute
,
Cell & Developmental Biology GPB Home Area
,
Neuroscience GPB Home Area
Research Interests
My research has been focused on improving the health of neonates requiring intensive care, either those born prematurely or low birthweight. There are a number of conditions that affect the long-term outcomes of these neonates, including both intrauterine and extrauterine postnatal factors. My previous work (including my K08) was focused on placental insufficiency as a main contributor to developmental programming of cardiovascular disease. I have worked with murine models over the last nine years at UCLA and prior during my fellowship training years to study mechanisms underlying endothelial reprogramming after adverse exposures. My interest in vascular physiology and biology was bridged with placental insufficiency in the recent study of epithelial membrane protein-2 (EMP2) and its role in murine placentation and reproduction.
In my R01 grant (awarded May 2021), my co-investigators and I studied EMP2 in a completely novel context of retinopathy of prematurity, another disease that contributes significantly to long-term neurodevelopmental outcomes of ex-premature infants. This disease can be devastating and lead to blindness in severe cases, affecting neonates both individually in their life trajectory, but also contributing to significant public health cost. EMP2 has never been studied in ROP, and would be a novel therapeutic target. Our preliminary data (published in IOVS 2020) demonstrates that Emp2 genetic knock-out mice are protected from neovascularization in a murine model of oxygen-induced retinopathy (OIR), and Emp2 appears to modulate disease via alteration of angiogenic signaling [downregulation of hypoxia inducible factor 1-alpha (Hif1a) and vascular endothelial growth factor (VEGF)] from the neuroretina.
In the long term, my career objective is to contribute to the understanding of vascular mechanisms of diseases affecting premature and low birth weight neonates, bridging my training in scientific research and my capabilities as a neonatologist and clinician, to improve the longterm outcomes of these neonates. My long-term goal is to contribute to improvement of maternal and neonatal outcomes and to help build the next generation of physician scientists. To accomplish these goals, I am collaborating with scientists with expertise in angiogenesis and vascular disease, retinal function and disease, epidemiology and biostatistics, genomics and advanced imaging in order to optimize a multidisciplinary team approach using novel paradigms and cutting-edge techniques. In studying retinopathy of prematurity, I brought bench techniques and knowledge back to the bedside to improve outcomes for premature infants.
Publications
A selected list of publications:
Chang CC*, Chu A*, Meyer S, Ding Y, Sun MM, Abiri P, Baek KI, Gudapati V, Ding X, Guihard P, Guihard P, Bostrom KI, Li S, Gordon LK, Zheng JJ, Hsiai TK. Three-dimensional imaging coupled with topological quantification uncovers retinal vascular plexuses undergoing obliteration. Theranostics. 2021 Jan 1;11(3):1162-1175. PMID 33391527 (*co-first authors)

Chu A, Dhindsa Y, Altendahl M, Tsui I. Prenatal intrauterine growth restriction and risk of retinopathy of prematurity. Scientific Reports. Oct 2020;10(1):17591. PMID: 33067506.

Douglass M, Strobel KM, Richley M, Mok T, de St. Maurice A, Fajardo V, Young A, Rao R, Lee L, Benharash P, Chu A, Afshar Y. Maternal-Neonatal Dyad outcomes of maternal COVID-19 requiring extracorporeal membrane support: a case series. Am J Perinatol. 2021 Janl38(1):82-87. PMID: 33069171.

Wong BM, Chu A, Tsui I. Regression of cystoid macular edema three weeks after laser for retinopathy of prematurity. Ophthalmic Surg Lasers Imaging Retina. 2020 Aug 1;51(8):472-475. PMID 32818280 (cover art)

Langston S, Pithia N, Shin MS, Garg M, de St. Maurice A, Chu A. Lack of utility of tracheal aspirates in the management of suspected neonatal pneumonia in intubated neonates. Infect Control Hosp Epidemiol. Mar 2020;1-6. PMID: 32209148.

Kothari N, Chu A, Huang M, Lin F, Lin BR, Manoharan N, Gui W, Huang A, Tsui I. Arm-mounted optical coherence tomography angiography in extremely low birth weight neonates with retinopathy of prematurity. Am J Ophthalmol Case Rep. Feb 2020; 18: 100624. PMID 32154434.

Wadehra M, Sun M, Casero D, Chen M, Aguirre B, Parikh S, Matynia A, Gordon L, Chu A. Epithelial membrane protein-2 promotes VEGF signaling and pathological neovascular growth in murine hyperoxia-induced retinopathy. Invest Ophthalmol Vis Sci. 2020 Feb;61(2):3. PMID: 32031575.

Sangkhae V, Fisher AL, Wong S, Koenig MD, Tussing-Humphreys L, Chu A, Lelíc M, Ganz T, Nemeth E. Effects of maternal iron status on placental and fetal iron homeostasis. J Clin Invest. 2020 Feb;130(2):625-640. PMID 31661462.

Chu A, Najafzadeh P, Sullivan P, Janzen C, Mah V, Wadehra M. Aldehyde dehydrogenase isoforms are differentially expressed in inflammatory macrophage and extravillous trophoblast cell populations in term human placentas affected by intrauterine growth restriction. Placenta. 2019 Jun;81:9-17. PMID: 31138432.

Chu A, Casero D, Thamotharan S, Wadehra M, Cosi A, Devaskar SU. The placental transcriptome in late gestational hypoxia resulting in murine intrauterine growth restriction parallels increased risk of adult cardiometabolic disease." Scientific Reports. 2019 Feb;9:1243. PMID: 30718791.
https://sites.lifesci.ucla.edu/mbi-home/wp-content/uploads/sites/191/2015/08/UCL_MBI_logo_40.gif
0
0
navila21
https://sites.lifesci.ucla.edu/mbi-home/wp-content/uploads/sites/191/2015/08/UCL_MBI_logo_40.gif
navila21
2022-12-20 10:26:51
2023-01-18 07:11:26
Alison Chu