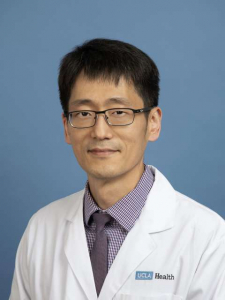 Daniel Shin, Ph.D.

Office Address:
11301 Wilshire Blvd
Affiliations
Assistant Professor-in-Residence,
Medicine-Hematology & Oncology
Research Interests
I joined hematology-oncology training from July 2012 in UCLA. During my training, I worked with Dr. Ribas who is one of the leading tumor immunologists via STAR (Specialty Training and Advanced Research) fellowship program, able to complete the program in July 2017 by earning PhD degree. I have studied the biology of PD-L1 regulation in melanoma and identified loss-of-function mutations on JAK1/2 that are associated with primary or acquired resistance to PD-1 blockade. This study aligns with renewed interests in interferon signaling given its critical role in mediating response and resistance to immunotherapy. My research interest is to understand tumor interferon biology in head and neck/lung cancer and to identify drugs that can be combined with immune checkpoint blockade to improve its therapeutic efficacy using mouse model systems. Ultimately, I hope to bring laboratory findings to clinical trial.
Publications
A selected list of publications:
https://sites.lifesci.ucla.edu/mbi-home/wp-content/uploads/sites/191/2015/08/UCL_MBI_logo_40.gif
0
0
navila21
https://sites.lifesci.ucla.edu/mbi-home/wp-content/uploads/sites/191/2015/08/UCL_MBI_logo_40.gif
navila21
2022-12-20 13:46:41
2023-01-18 13:26:08
Daniel Shin