The Molecular Biology Institute was been built on a foundation of philanthropy. Much of what we have accomplished over the past 50 years has been made possible by supporters who believe in our mission. Here are some new initiatives we are working on and we welcome your feedback and involvement!
Boyer-Parvin Postdoctoral Awards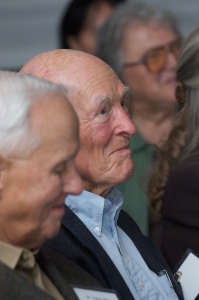 Founding MBI Director Paul Boyer was a staunch advocate for postdoctoral scholars. He admired the skills, intellect and enthusiasm they brought to science and the impact of their research on advancing our knowledge of the living world. In 1999 Dr Boyer donated a portion of his Nobel Prize to establish the Postdoctoral Awards. Friend and colleague James Peter, supporter Albert Parvin and Amgen Inc. added to the fund, which recognized over 100 exceptional postdoctoral scholars over a 15 year period.
We're beginning an exciting new era: with the generous support of the Parvin Foundation, we have established the Boyer-Parvin Postdoctoral Awards. We hope you will join in this effort by making a gift, which will ensure the continued recognition of postdoctoral scholars and the Boyer legacy for decades to come.
Accelerating Research with Cutting Edge Technology
Access to the latest technology and cutting-edge techniques is crucial to tap the transformative potential of molecular biology. Often, these advances are not readily available to university researchers, who typically purchase new equipment only when they first set up their labs. UCLA MBI proposes to implement a dynamic new model of instrumentation availability and training to address this issue: by setting up a technology incubator where the latest equipment and instruments will be showcased, demonstrated and made available for hands-on training for junior and senior researchers.
You can support this project by making a gift to the Directors Discretionary Fund.
International Outreach Program
The Molecular Biology Institute is committed to training the next generation of global scientific leaders. To achieve this goal, we must attract the highest-caliber students around the world, who bring with them diverse perspectives that are essential for new breakthroughs in science and medicine. Tuition costs continue to rise and are particularly high for international students, who number only 10% of the MBI Doctoral student body. We aim to change this by establishing the International Outreach Program, designed to attract the brightest international students and especially those from South America and Africa where career aspirations to train in the U.S. are severely limited by financial constraints. This program will allow us to identify the best candidates for graduate education in the MBI, regardless of their geographical origin, and build a truly global pipeline of scientific excellence for the future. This is an exciting opportunity to be a part of the new wave of breakthroughs by providing a path for young international scientists to receive excellent training and lay the foundation for successful scientific careers.