This year's workshop is now full and registration is closed!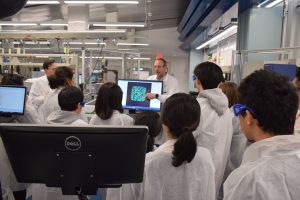 Many highly-successful MBI graduates have made the leap from academia to industry. Nevertheless, the world of biotech and the drug discovery pipeline in particular, can be a mystery.  The MBI is working with researchers at Amgen to illuminate the process by which new drugs are developed, tested and brought to market.
This 3-day workshop, lead by Amgen researchers, covers key aspects of the drug discovery process, including:
Identifying therapeutic targets


Increasing efficacy and safety

Process development, devices and manufacturing


Case studies from bench to clinic



The workshop will culminate with a site-visit to the Amgen campus in Thousand Oaks.
*Due to space limitations, the site-visit will be restricted to those who also attended the on-campus workshops.
View this year's speaker bios.
2019 Workshop Schedule
Day
Time
Location
Title
Presenter (s)
Wednesday 27th March
Noon - 1pm
Boyer Hall 159
Introduction to Drug Discovery and Development at Amgen
John Ferbas, PhD
Director, Cytometry Sciences
1pm - 2pm
Boyer Hall 159
Bench-to-clinic case study 1: BiTE therapeutics to treat cancer
Paul Hughes, PhD
Scientific Director, Oncology
Break
2.15-3.15pm
Boyer Hall 159
Bench-to-clinic case study 2: developing treatments for migraine
Cen Xu, PhD
Scientific Director, Neuroscience
Thursday 28th March
Noon- 1pm
Boyer Hall 159
Bench-to-clinic case study 3: developing treatments for osteoporosis
Chris Paszty, PhD
Scientific Director, Cardiometabolic Disorders
1pm- 2.30pm
Boyer Hall 159
Exploring careers in Biotech.
Amgen representatives from HR, the Amgen Postdoc Program and Summer Intern Program.
Friday 29th March
7.15am - 2pm
Amgen Thousand Oaks
Lab tours and Q&A with current postdocs