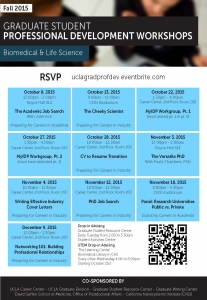 We view graduate training as a critical stepping stone along diverse careers paths that may lead to academic teaching and research, industry research, entrepreneurship, policy analysis, law, and management.  Both UCLA and the MB-IDP provide career development resources and opportunities to prepare our students to follow their passions towards a fulfilling career.
The Graduate Student Professional Development Workshops hosted by the career center are part of the commitment the UCLA community has towards helping our Bioscience students reach the next steps in their career development.
"Get Connected" is a series of events curated by Graduate Programs in Bioscience on topics of professional development for bioscience graduate students.
The Office of Postdoctoral Affairs for Biomedical and Life Sciences also post many career development training and job postings for students finishing their doctoral training. For more information, please click here.