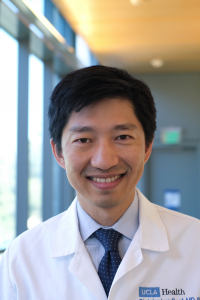 Christopher S. Seet, M.D., Ph.D.

Office Address:
Terasaki Life Sciences Building 3031
Los Angeles, CA 90095
Affiliations
Assistant Professor,
Division of Hematology-Oncology, Department of Medicine
Member,
Eli & Edythe Broad Center of Regenerative Medicine & Stem Cell Research
Member,
Jonsson Comprehensive Cancer Center
Member,
Molecular Biology Institute; Immunity, Microbes & Molecular Pathogenesis GPB Home Area
Research Interests
The Seet Laboratory is focused on the study of human lymphocyte development and function and its application to tumor immunology and cancer immunotherapy. The Lab seeks to broadly understand how T cell development from stem and progenitor cells can be directed to enhance T cell function and anti-tumor efficacy, with a focus on developing new approaches to immune cell therapy for cancer. Current projects include the in vitro generation of tumor antigen-specific TCRs, characterization of novel receptor pathways in T cell-tumor cell interactions, and modification of in vitro T cell differentiation to generate T cells with enhanced in vivo anti-tumor potential from pluripotent stem cells. The Lab is particularly interested in the development of immunotherapeutic approaches to treat hematologic malignancies, Dr. Seet's clinical subspecialty. The Seet Lab incorporates methods in molecular and cell biology and immunology including lentiviral gene delivery, gene editing, single-cell RNA-seq and TCR sequencing, flow cytometry, human immune cell functional assays, and in vivo modeling of human immune cell function in tumor xenograft models. The Lab fosters a highly collaborative environment for trainees at all levels to pursue scientific investigation with an emphasis on creativity, innovation, and clinical significance.
Biography
Dr. Seet is an Assistant Professor of Medicine in the Division of Hematology-Oncology at UCLA. He has a scientific research focus on human immune cell development and cancer immunotherapy, and a clinical subspecialty practice in hematologic malignancies, stem cell transplantation and cellular therapy at Ronald Reagan UCLA Medical Center. He received a B.S. in Biological Science from the University of Chicago and an M.D. from the University of Sydney, Australia. He joined UCLA in 2011 as a Fellow in Hematology-Oncology and the UCLA STAR Program during which he completed Ph.D. and post-doctoral research in cellular and molecular development of human T cells from hematopoietic and pluripotent stem cells. Dr. Seet's work has been recognized by a K08 Career Development Award from the National Cancer Institute and a V Scholar Award from the V Foundation for Cancer Research. His research has additionally been supported by the Parker Institute of Cancer Immunotherapy and the Broad Stem Cell Research Center.
https://sites.lifesci.ucla.edu/mbi-home/wp-content/uploads/sites/191/2015/08/UCL_MBI_logo_40.gif
0
0
navila21
https://sites.lifesci.ucla.edu/mbi-home/wp-content/uploads/sites/191/2015/08/UCL_MBI_logo_40.gif
navila21
2022-12-20 11:06:02
2023-01-18 13:01:00
Christopher Seet