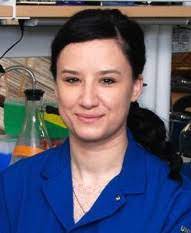 Alice Soragni, Ph.D.

Office Address:
BSRB 410A
Affiliations
Assistant Professor-in-Residence,
Orthopaedic Surgery
Research Interests
We develop strategies to test drugs in 3D tumor organoid models in a fast, reliable, high-throughput, inexpensive manner. Requiring few tumor cells, we aim to extend our methods to test combination of chemotherapies or targeted therapies directly on primary tumors from patients' biopsies or surgical samples in order to personalize treatment.
Our most current work is focused on sarcoma, ovarian cancer, neuroendocrine tumors as well as neurofibromas.
Additionally, We are investigating the role of p53 aggregation in cancer onset and progression. We exploit p53 aggregation for therapeutic intervention using peptide drugs, and are testing combinatorial regimens with traditional chemotherapy and other targeted agents. In addition, we are studying the role of protein aggregation in cancer more broadly, by identifying which proteins misfold and accumulate in different cancers, in which conditions this happens and design therapeutic peptides to target them for cancer therapy.
Publications
A selected list of publications:
In vivo demonstration that α-synuclein oligomers are toxic
B Winner, R Jappelli, SK Maji, PA Desplats, L Boyer, S Aigner, C Hetzer, …
Proceedings of the National Academy of Sciences 108 (10), 4194-4199
A Designed Inhibitor of p53 Aggregation Rescues p53 Tumor Suppression in Ovarian Carcinomas
A Soragni, DM Janzen, LM Johnson, AG Lindgren, ATQ Nguyen, …
Cancer cell 29 (1), 90-103
Mechanism of membrane interaction and disruption by α-synuclein
NP Reynolds*, A Soragni*, M Rabe, D Verdes, E Liverani, S Handschin, …
Journal of the American Chemical Society 133 (48), 19366-19375
A simple high-throughput approach identifies actionable drug sensitivities in patient-derived tumor organoids
N Phan, JJ Hong, B Tofig, M Mapua, D Elashoff, NA Moatamed, J Huang, …
Communications biology 2 (1), 1-11
The Amyloid–Congo Red Interface at Atomic Resolution
AK Schütz, A Soragni, S Hornemann, A Aguzzi, M Ernst, A Böckmann, …
Angewandte Chemie International Edition 50 (26), 5956-5960
In vitro analysis of protein-operator interactions of the NikR and fur metal-responsive regulators of coregulated genes in Helicobacter pylori
I Delany, R Ieva, A Soragni, M Hilleringmann, R Rappuoli, V Scarlato
Journal of bacteriology 187 (22), 7703-7715
Solution structure of selenoprotein W and NMR analysis of its interaction with 14-3-3 proteins
FL Aachmann, DE Fomenko, A Soragni, VN Gladyshev, A Dikiy
Journal of Biological Chemistry 282 (51), 37036-37044
Structural Characterization of Binding of Cu (II) to Tau Protein
A Soragni, B Zambelli, MD Mukrasch, J Biernat, S Jeganathan, …
Biochemistry 47 (41), 10841-10851
The mechanism of prion inhibition by HET-S
J Greenwald, C Buhtz, C Ritter, W Kwiatkowski, S Choe, ML Maddelein, …
Molecular cell 38 (6), 889-899
Toxicity of Eosinophil MBP Is Repressed by Intracellular Crystallization and Promoted by Extracellular Aggregation
A Soragni, S Yousefi, C Stoeckle, AB Soriaga, MR Sawaya, E Kozlowski, …
Molecular cell 57 (6), 1011-1021
Superresolution imaging of amyloid fibrils with binding-activated probes
J Ries, V Udayar, A Soragni, S Hornemann, KPR Nilsson, R Riek, C Hock, …
ACS chemical neuroscience 4 (7), 1057-1061
On-Surface Aggregation of α-Synuclein at Nanomolar Concentrations Results in Two Distinct Growth Mechanisms
M Rabe, A Soragni, NP Reynolds, D Verdes, E Liverani, R Riek, S Seeger
ACS chemical neuroscience 4 (3), 408-417
Infectious and Noninfectious Amyloids of the HET‐s (218–289) Prion Have Different NMR Spectra
C Wasmer, A Soragni, R Sabaté, A Lange, R Riek, BH Meier
Angewandte Chemie International Edition 47 (31), 5839-5841
Structural similarity between the prion domain of HET-s and a homologue can explain amyloid cross-seeding in spite of limited sequence identity
C Wasmer, A Zimmer, R Sabaté, A Soragni, SJ Saupe, C Ritter, BH Meier
Journal of molecular biology 402 (2), 311-325
A Combined Solid‐State NMR and MD Characterization of the Stability and Dynamics of the HET‐s (218‐289) Prion in its Amyloid Conformation
A Lange, Z Gattin, H Van Melckebeke, C Wasmer, A Soragni, …
ChemBioChem 10 (10), 1657-1665
Of scientists and tweets
A Soragni, A Maitra
Nature Reviews Cancer 19 (9), 479-480
Patient-Derived Tumor Organoid Rings for Histologic Characterization and High-Throughput Screening
HTL Nguyen, A Soragni
STAR Protocols 1 (2), 100056
Point of View: Journal clubs in the time of preprints
P Avasthi, A Soragni, JN Bembenek
eLife 7, e38532
Personalized chordoma organoids for drug discovery studies
A Al Shihabi, A Davarifar, HTL Nguyen, N Tavanaie, SD Nelson, …
Science advances 8 (7), eabl3674
Drug screening at single-organoid resolution via bioprinting and interferometry
PJ Tebon, B Wang, AL Markowitz, A Davarifar, P Krawczuk, G Murray, …
bioRxiv, 2021.10. 03.462896
https://sites.lifesci.ucla.edu/mbi-home/wp-content/uploads/sites/191/2015/08/UCL_MBI_logo_40.gif
0
0
navila21
https://sites.lifesci.ucla.edu/mbi-home/wp-content/uploads/sites/191/2015/08/UCL_MBI_logo_40.gif
navila21
2022-12-20 14:08:18
2023-09-25 14:55:21
Alice Soragni